I think letting this much time pass after beach week before writing the blog was a bad thing. Now that it has been a while it feels like it was a good vacation. It wasn't. Everyone got sick, it was fairly cold, and I never ate an actual burger form dune burger.
Well, about halfway through the week I started taking score. This pretty much sums up the week.
Beach week score
1 – 102° fever
1 – Vomit covered couch
1 – Diaper rash so bad it bled
1 – Not quite severed finger
5 – Peoples less than healthy
2 – Trips to the doctor
1 – Rescued frog from the pool
2 – Not quite so rescued crabs from pool
0 – Nights of solid sleep
5 – Trips to dune burger
3 – Trips to Kitty Hawk
1 – Never ending smoke alarm
1 – Foot splinter the size of a tooth pick
0 – Drownings
3 – Lbs of bacon
3 – Sub par offers on our house
1 – Termite damaged bath room (@ Belgrave)
25 – Muchkins
1 – Gate injury
1 – Fence Injury
1 – Poo stain on the carpet
1 – Case of vertigo
1 – Fly up the nose
1 – Cube of beef in the ear
N – High centered senors on baby gates
1 – Cat unresponsive to antibiotics
0 – Exploding oil pans on I-295
Clearly there is plenty to be grateful on that list, but plenty that made for a less than ideal vacation.
Still, it is nice to have a photogenic set o' kids:
Lars going eagle style on that shell.
Lars and his pops on Life is Good shirt day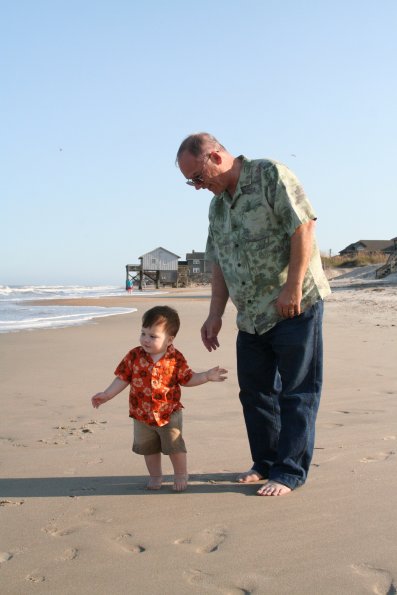 Convincing grandpa that Hawaiian shirts are cool
Leah found some shells and they are pretty
Taking her brother out to the lighthouse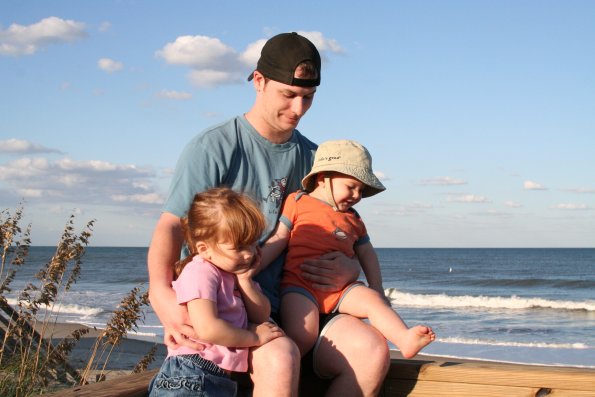 Nene with them kids on Life is Good shirt day
Busted!