Since last time I posted we have passed a few milestones here in the Sexton household. Laurence has gone from scooting to crawling and standing. Recently he has been starting to cruse around furniture while holding on. Started to get the controlled fall thing down. Baby break falling is pretty simple, if you are starting to topple — sit! His diaper helps pad the landing. Works out pretty well most of the time.
The other huge milestone was Leah's. We officially have a potty trained toddler. We followed the book Potty Training Boot Camp which I think was a solid success. But it was not easy. There was plenty of crying, throwing tantrums, running naked and protesting — and that was just me. Leah had similar behavior. Now that the battle is over, we are better for it. Leah still stresses about it, but is getting better. We have been able to venture on longer car rides and walks with nary an accident.
We have persisted the bribe for peeing or pooping in the potty — and I am willing to continue it until her twenties if I have to — candy. that goes for anyone at Ft. Truxion: if you pee in the potty, all you have to do is 1) put your underwear back on and 2) do that "I did it dance" and you will receive candy.
Sweet deal.

HALP, he's learned tools!

Lars loves the outside as long as he doesn't have to touch it.

Tackle!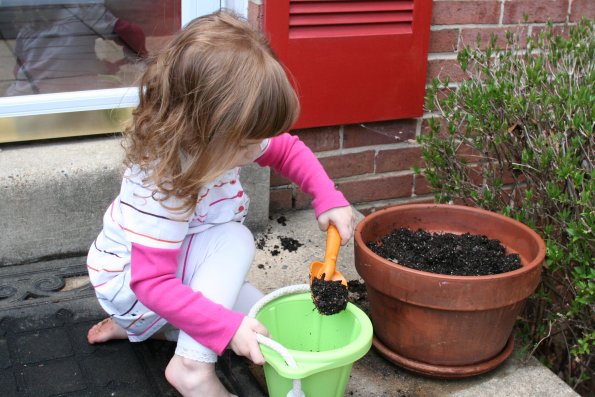 Taking care of our pretty flowers.

Leah and panda going on a short walk.

Playing with her little buddy.

Too tired for food.
See more in the album.